ABOUT THE FORT WORTH OPTIMIST CLUB
Members of the Optimist Club of Fort Worth are men, women, business owners, professionals, managers and executives of all ages. We are affiliated with Optimist International, an international service organization of similar goals. We are a hands-on club that rolls up its sleeves instead of sitting on the sidelines. We believe that, through young people, we can influence the future by encouraging good academics, citizenship, a love of sports and sportsmanship, and an optimistic view of life. As a club member, you will have lots of opportunities to make a real difference in a young person's life. You might be a league sports coach, a scorekeeper or an announcer. Or, you might judge an essay contest. We finance our programs by selling Christmas trees, operating a concession stand, and other "fun" fund raising activities.
At the Optimist Club of Fort Worth we also strive to have fun in everything we do. Not only is it rewarding to give back to our community and make a difference in the youth's lives, but we also have great time doing it. We meet for lunch every Friday and do other community involved activities such as donating supplies to The Ronald McDonald House, teddy bears for children in the Hospital, and clothing and food drives for local shelters. 
We look forward to seeing you and becoming part of our wonderful club.
Through the efforts of Solon Featherston, Governor of District 7, and the Optimist Club of Wichita Falls, a meeting was arranged at the Blackstone Hotel in downtown Fort Worth on April 4th, 1935 for the purpose of organizing a club.

The record reveals that among those present were Jesse E. Martin, Dr. Jerrell Bennet, and J. Warren Day.

It was decided by those present that an Optimist Club be organized and that application be made for a Charter. The Charter was granted, and was presented on May 15, 1935. There were 55 Charter Members.

When only three months it secured the Optimist International Convention for 1936. The Convention was a success, netting the Club a profit of $800.00. The boys work activity was begun in the fall of 1935, and has continued to date, with marvelous results.
To be so strong that nothing can disturb your peace of mind.
To talk health, happiness and prosperity to every person you meet.
To make all your friends feel that there is something in them.
To look at the sunny side of everything and make your optimism come true.
To think only of the best, work only for the best, and to expect only the best.
To be just as enthusiastic about the success of others as you are about your own.
To forget the mistakes of the past and press on to the greater achievements of the future.
To wear a cheerful countenance at all times and give every living creature you meet a smile.
To give so much time to the improvement of yourself that you have no time to criticize others.
To be too large for worry, too noble for anger, too strong for fear, and too happy to permit the presence of trouble.
MAKE TAX DEDUCTIBLE CONTRIBUTIONS 
The Optimist Club of Fort Worth is actually two different organizations under the Internal Revenue Code. The Optimist Club is a fraternal organization under Section 501 (c) (4), which is tax-exempt, but contributions to which are not tax-deductible. The Optimist Club of Fort Worth Youth Fund Inc. is a charitable corporation under Section 501 (c) (3) that operates our charitable programs, and is eligible to receive charitable contributions.

The Optimist Club has operated as a fraternal organization in Fort Worth for almost 80 years. It not only conducted our sports and scholarship programs, but it also held weekly meetings with interesting speakers and engaged in social activities. By the mid-2000's, the Internal Revenue Service had adopted a policy that fraternal organizations could not receive tax-free contributions because of their non--charitable activities. Therefore, in 2010, the Optimist Club decided to create a sister organization that would operate the programs, and be eligible to receive contributions under Section 501 (c) (3). We applied for 501(c)(3) status in December, 2010, and received a determination letter in April, 2013 confirming that contributions to the Youth Fund, Inc. are fully tax-deductible.

Since then, we have undertaken necessary research, and have begun to apply for grants that will strengthen our programs. We hope to improve our sports venues, and to increase the scope of our scholarship programs.  We have club members who are liaisons with 12 Fort Worth ISD high schools and receive nominees from all of them for our major scholarship program.. However, we only have funds at present to grant three scholarship. We hope to expand the program so that we can have a scholarship winner at each school.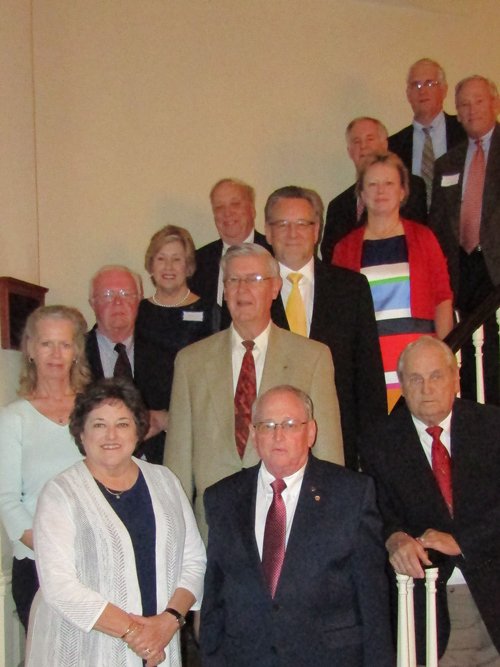 2017-2018 CLUB OFFICERS
Tracy Allen, Chairman of the Board
Tommy Janes, President
Fred Antonini, President-Elect
Judi Janes, Executive Secretary
Ron Gamill, Treasurer

BOARD OF DIRECTORS
Dick Fahy, Board Secretary
Stephanie Sullivan, Youth Activity Chair
Steve McCoy, Youth Activity Chair-Elect
Ron Traver, Program Chair
Neil Hunt, Fellowship/Membership/Attendance Chair
Carson and ed Meinen, Community Service Co-Chairs
Bill Barkley, Chaplain
Craig Verwers Sargeant-At-Arms
CLUB ADDRESS
P.O. Box 101163
Fort Worth, Texas 76185

682-292-8043
Our luncheon meetings are held on Friday at noon on the Mezzanine level of 4055 International Plaza. This is located near Hulen Street and I-20, directly behind the Home Depot. It is also next to Arborlawn United Methodist Church. The building is readily recognizable-- an aluminum-clad building about eight stories tall, with a cylindrical tower. Take the stairs in the middle of the lobby to the first floor. The club meets in the activity room very near the top of the stairs, directly across from the cafeteria.